What are the latest countertop options? How do you choose between all of the different materials available? What are the price points for different types of countertops? How much care and maintenance is involved?
Countertops represent a substantial chunk of your new home's kitchen, bath, and laundry budget, and it's important to make the right decision for your budget and lifestyle. Here is a round-up of the most popular countertop materials, along with information about what they're actually made of, their relative price points, and basic guidance on the required care and durability of the different materials.
Granite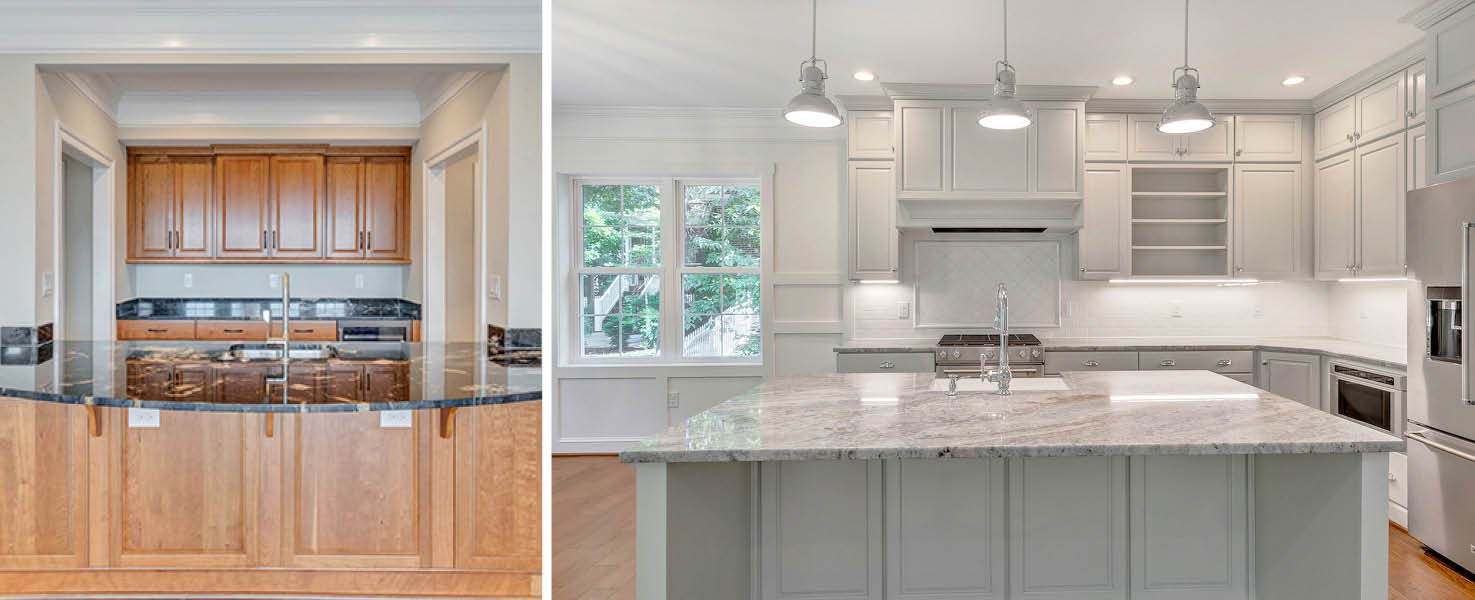 Granite is a natural stone that comes in a wide variety of colors and price points. Common and widely available types are very affordable, while more exotic, rare, or solid color granites come at a higher premium.
Granite is a very strong natural material but does require regular re-sealing to prevent staining (once per year is usually recommended). Granite can chip or crack if a very large heavy object is dropped on it, but it is more resilient than softer stones and marbles.
Granite is popular in kitchens, baths, butler's pantries, and laundry rooms, as well as on bars. Granite can also be used outside for outdoor kitchens, but it should be covered in inclement weather to avoid premature wear and tear.
Quartz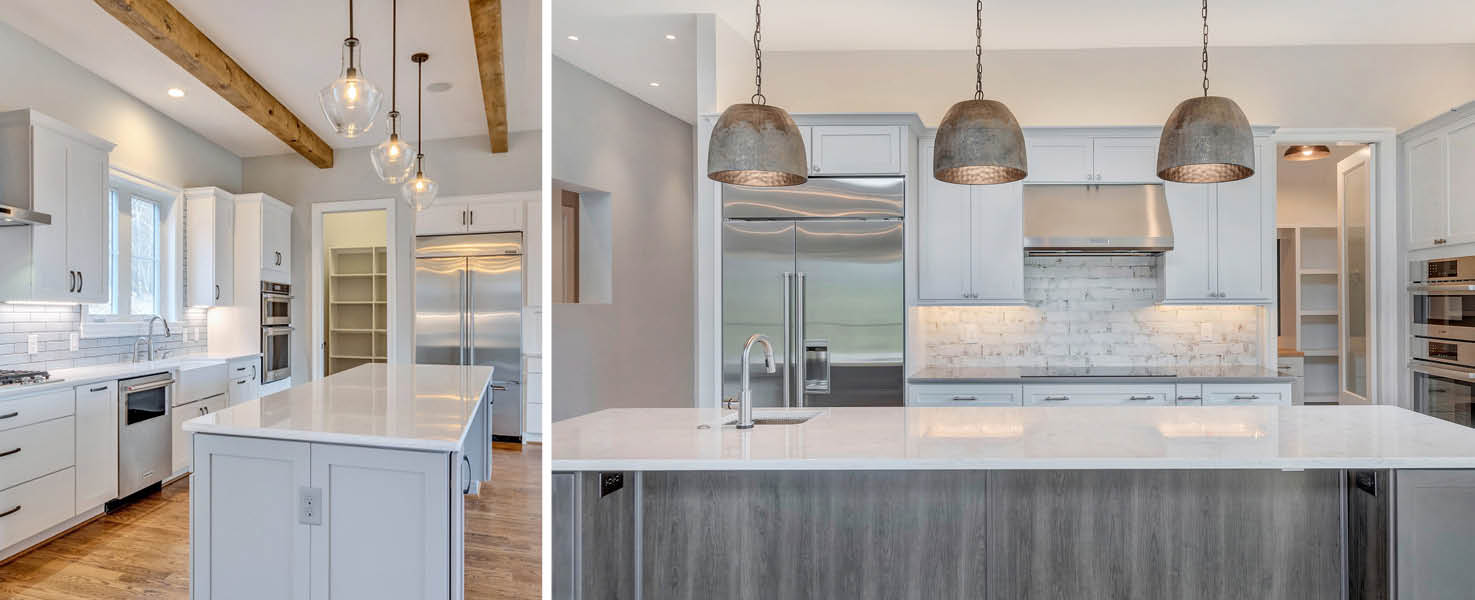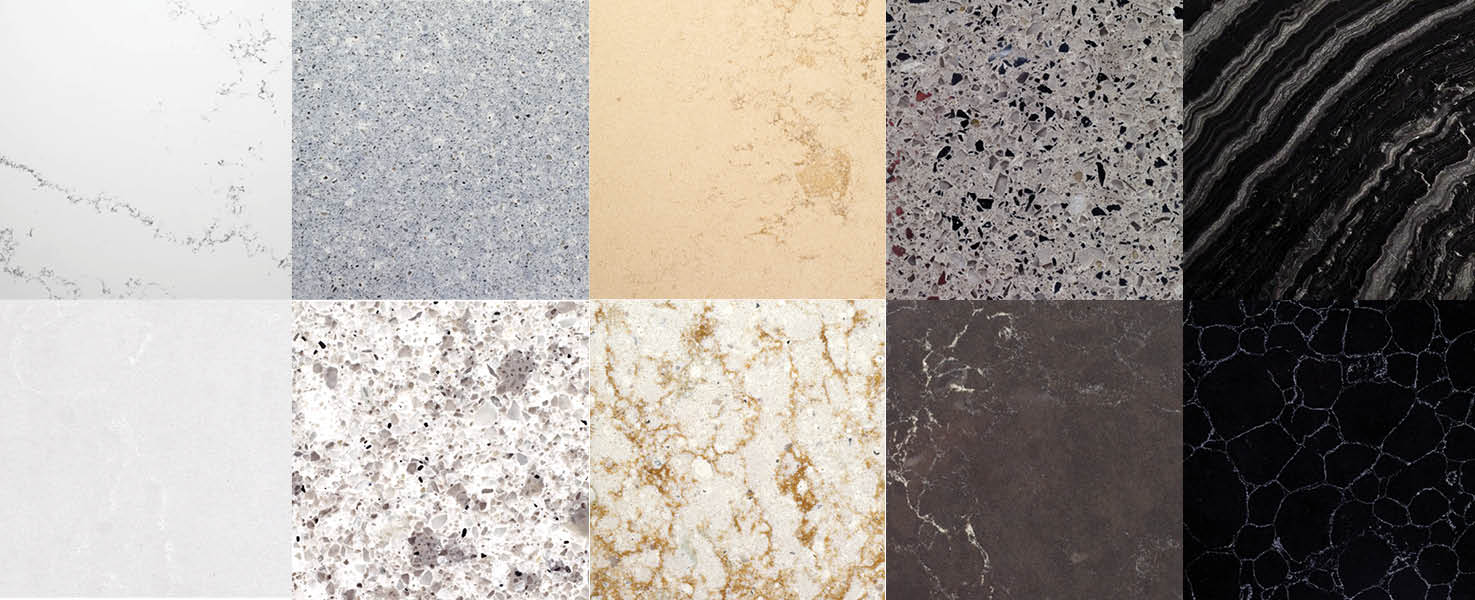 Sometimes referred to as "engineered stone," natural quartz crystals are mined, then ground into a dust or an aggregate that's fused with resin binders under intense heat and pressure to form a solid slab. Pigments added during the process impart color to the countertop. As a result, quartz countertops come in myriad colors, textures, and patterns, including solid colors, speckled finishes that can include recycled glass, and marbled finishes made to mimic natural stone. The cost varies widely, with solid and speckled varieties typically being more affordable than marbled looks.
Quartz is an extraordinarily hard mineral and makes for a very resilient surface. Still, care should be taken not to regularly place extremely hot pots and pans directly on the surface. While uncommon, repeated exposure to high heat can eventually cause the resin to break down in that area. A hot pad or trivet is recommended to maintain your countertops long-term. Otherwise, quartz is one of the most resilient surfaces for kitchens, baths, laundry rooms, bars, and working pantries. It rarely, if ever, needs to be sealed and does not easily scratch, dent, or crack.
Quartzite



Not to be confused with manufactured Quartz, Quartzite is a naturally occurring rock that starts as a kind of sandstone and evolves into quartzite when subjected to heat and pressure over time. The resulting white or gray stone tends to have beautiful streaks of color, giving it the look of marble while maintaining the toughness of granite. Quartzite is typically more expensive than granite but similar in cost to other premium natural stones like marble.
Quartzite should be sealed like any natural stone to avoid staining and etching. It is durable against scratches, dents, and cracking.
Marble



Carrara. Calacatta. The classic sign of luxury, marble is a natural stone created by sediment under pressure. It is not as hard as granite but not as soft as soapstone, either. It can be found in various colors, including white, black, gray, yellow, pink, and green, and sometimes includes prominent veins of mineral deposits.
Marble is typically more expensive than most granites and quartz countertops. It is heat-resistant but very porous, requiring re-sealing at least once a year. Even when properly maintained, marble is likely to stain or etch when exposed to acidic fluids or foods. It is also very vulnerable to scratching. As a result, some give up the fight and embrace the "living surface" that wears and patinas over time and use. On the other hand, if your preference is for a perfect finish with a glossy shine and no signs of age or use, marble may not be for you.
Soapstone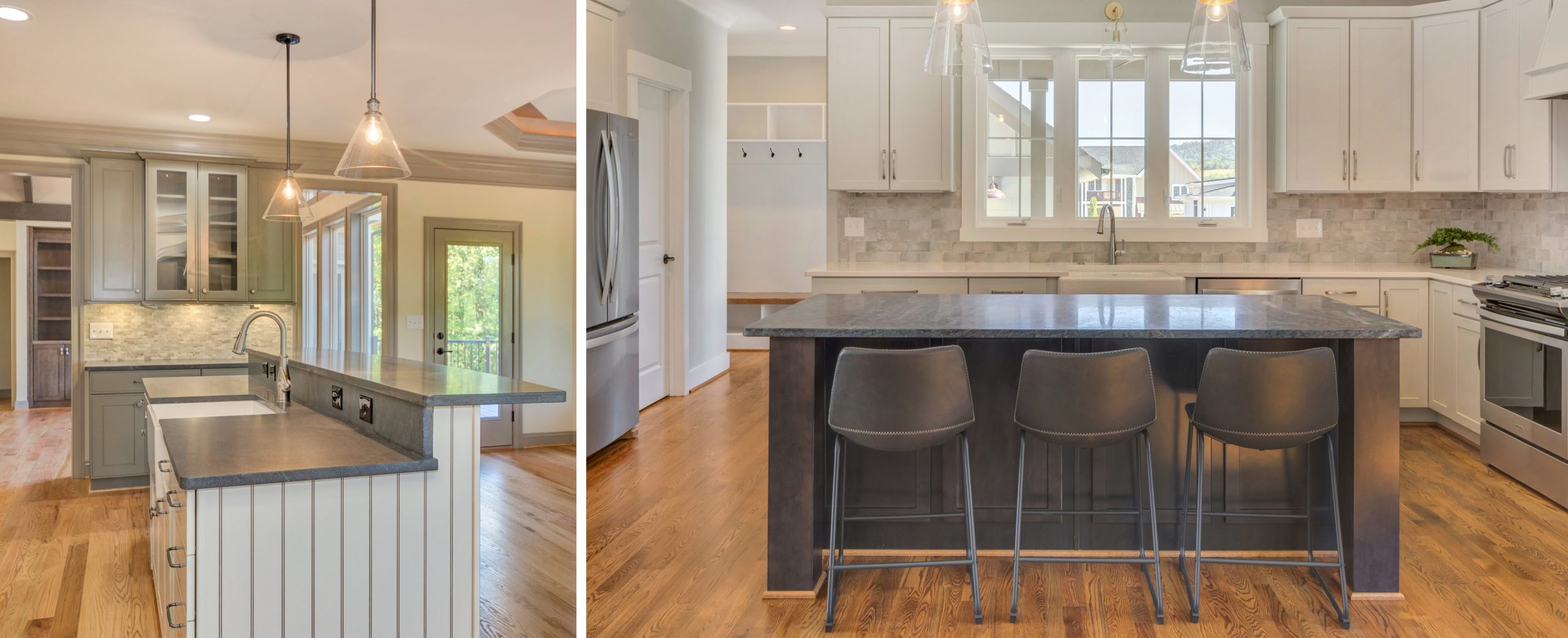 Soapstone is a natural stone that takes its name from its surface's soft, velvety, almost soapy feel. Central Virginia boasts one of the most extensive soapstone seams in the world and is the source of Alberene Soapstone – the only American-produced soapstone. The Alberene Soapstone Company was founded in 1883 and mined soapstone blocks from quarries in Church Hill, Old Dominion, Schuyler, and Climax. According to local historians, the Alberene Soapstone Company was once the largest employer in the US in the late 19th century and was the second place to have electricity in the US (first was Manhattan). This soapstone vein, which is one of the largest in the world, has been widely used for the manufacturing of laundry tubs, laboratory and school benchtops, sculptures, and residential countertops.
Soapstone is non-porous compared to other natural stones and doesn't require the periodic sealing that many other types require. Typically a speckled gray that may have lighter veins running through it, soapstone can be waxed or oiled to achieve a darker charcoal or black finish. Soapstone is naturally soft and may scratch or chip more easily than some other stone surfaces, but the softness also allows homeowners to simply buff out scratches. Soapstone makes an excellent "living surface", gaining patina over time and use. It's an excellent surface for kitchens, baths, laundry rooms, and pantries or bars.
Brazilian soapstone is imported and shares many of the same qualities as Alberene Soapstone, but typically has more green in the coloration and bolder patterns rather than the dark gray/black color.
Laminate
Modern laminate countertops are a laminate (or plastic) layer glued onto a woodchip core. They come in a vast variety of colors, patterns, and edge options, including contemporary squared edge options. While generally not considered a premium surface, they can help save costs in more hidden areas of the home like the laundry room or mudroom. The surface is lightweight and resilient to scratches, but care should be taken with water exposure and spills. Sinks should be surface mounted rather than undermount and caulk should be regularly checked and maintained to avoid any water getting into the chipboard core of the countertop.
Butcherblock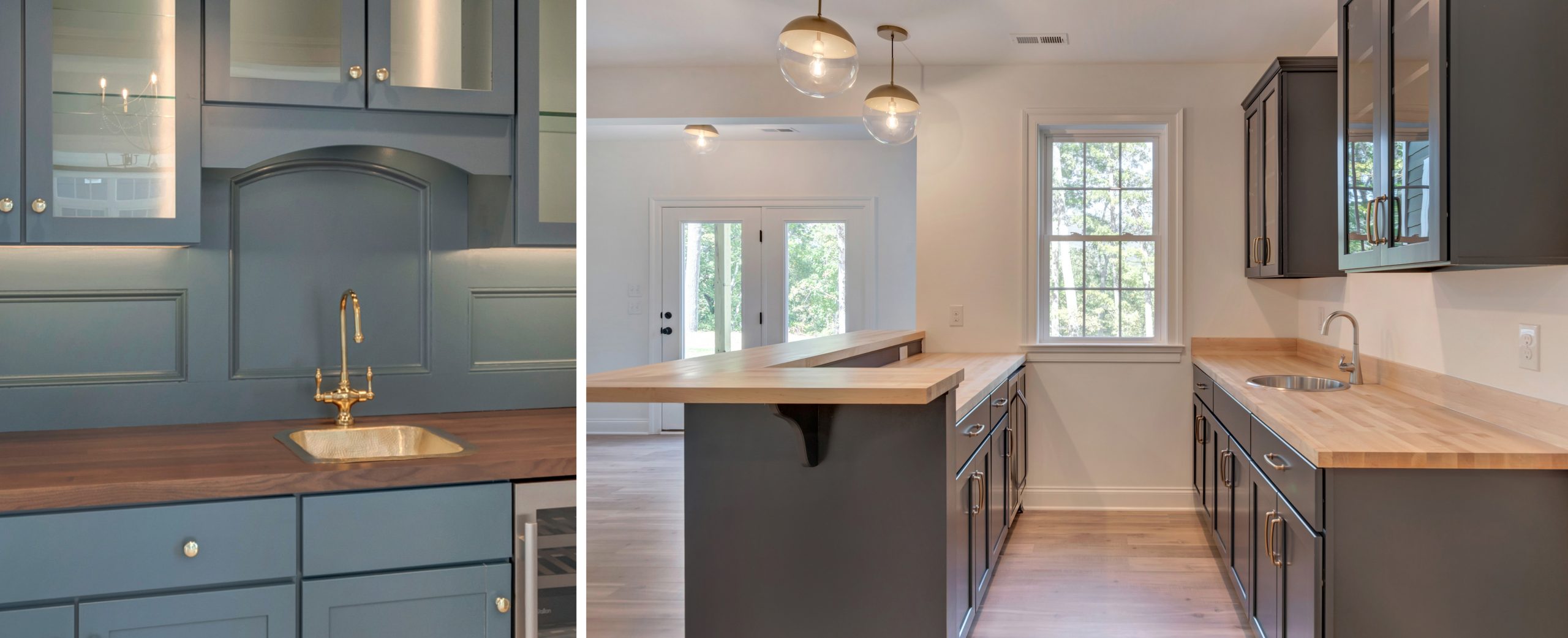 Butcherblock countertops are made up of glued strips of hardwood and are available in a variety of species, like oak, maple, walnut, ash, and sometimes even bamboo. Butcherblock is available to two basic styles: edge grain and end grain.
Edge grain is the most used for countertops because it is strong and cost-effective; it's created by gluing long boards together on their sides. This is the most common type of butcher block that looks like a lot of long strips of wood. End grain consists of small blocks arranged so that their ends are visible on the surface. It appears as a bunch of small squares of wood rather than long strips and is extremely resistant to cutting marks. End grain is a significantly more expensive option than edge grain, however, due to the more complex manufacturing process.
Butcherblock is a great option for a kitchen island, laundry room, or mudroom. It requires similar care to a premium wood cutting board, and should be oiled so it doesn't dry out or crack. The durability depends on the species of wood selected, but it can scratch and dent under hard use. Care should be taken to wipe up spills to avoid water damage or staining. The cost depends greatly on the board orientation and the wood species, but butcherblock is typically less expensive than most mid-level natural stone and quartz options.
Concrete
Concrete countertops are just that- countertops made from concrete, typically with a pigment added. While relatively economical as a DIY project, concrete countertops can be very expensive when professionally crafted and installed due to the labor involved. They are typically made on site and require special handling, including building custom forms. Concrete is naturally very porous,  so countertops must be carefully sealed and maintained to avoid staining.
Stainless Steel



Countertops made of stainless steel have been used in professional kitchens for decades thanks to the stain and heat-resistance of stainless steel and its durability. Worktops are made of thin sheets of stainless steel fastened to a plank of wood or other backing. Metal on the corners can be folded or welded to avoid seams. Stainless steel comes in myriad grades and finishes. Typically the best grade of steel for kitchen countertops is type 304, which is strong and scratch-resistant. The finish is also categorized by a numbering system that represents how polished the finish is. A more polished finish is likely to show more fingerprints and scratches.
The thickness of the steel is also rated by gauge, where lower numbers indicate thicker steel. 16 and 18ga are the most common in residential settings.
Stainless steel is heat resistant and durable and does not patina over time. With proper care, it will maintain its original look for years to come. The price point varies according to type, finish, and ga, as well as availability and the current cost of steel, but you can expect to pay at least as much as a mid-grade stone.
While we covered most of the common countertop types here, there are still many others! From travertine to limestone, porcelain and solid surface slabs… the possibilities seem endless. Visit your local cabinetry dealer and speak directly to the experts – it can make a world of difference. Seeing samples in person and feeling the different materials is crucial – and fun! If you're building with Bramante, our in-house designer and selections coordinator will help with all of the tough choices and provide guidance throughout the home building process. We're here for you!