Let's talk about customizing your electrical plan.
One of the greatest, but probably lesser-known and less talked about benefits of building custom is that you have complete control over your electrical plan. Of course code requirements guide many of the basics, including how many outlets are required in a room, the presence of wall switches, and what has to be GFCI-protected, but you have myriad options to add to and customize the layout based on your personal preferences.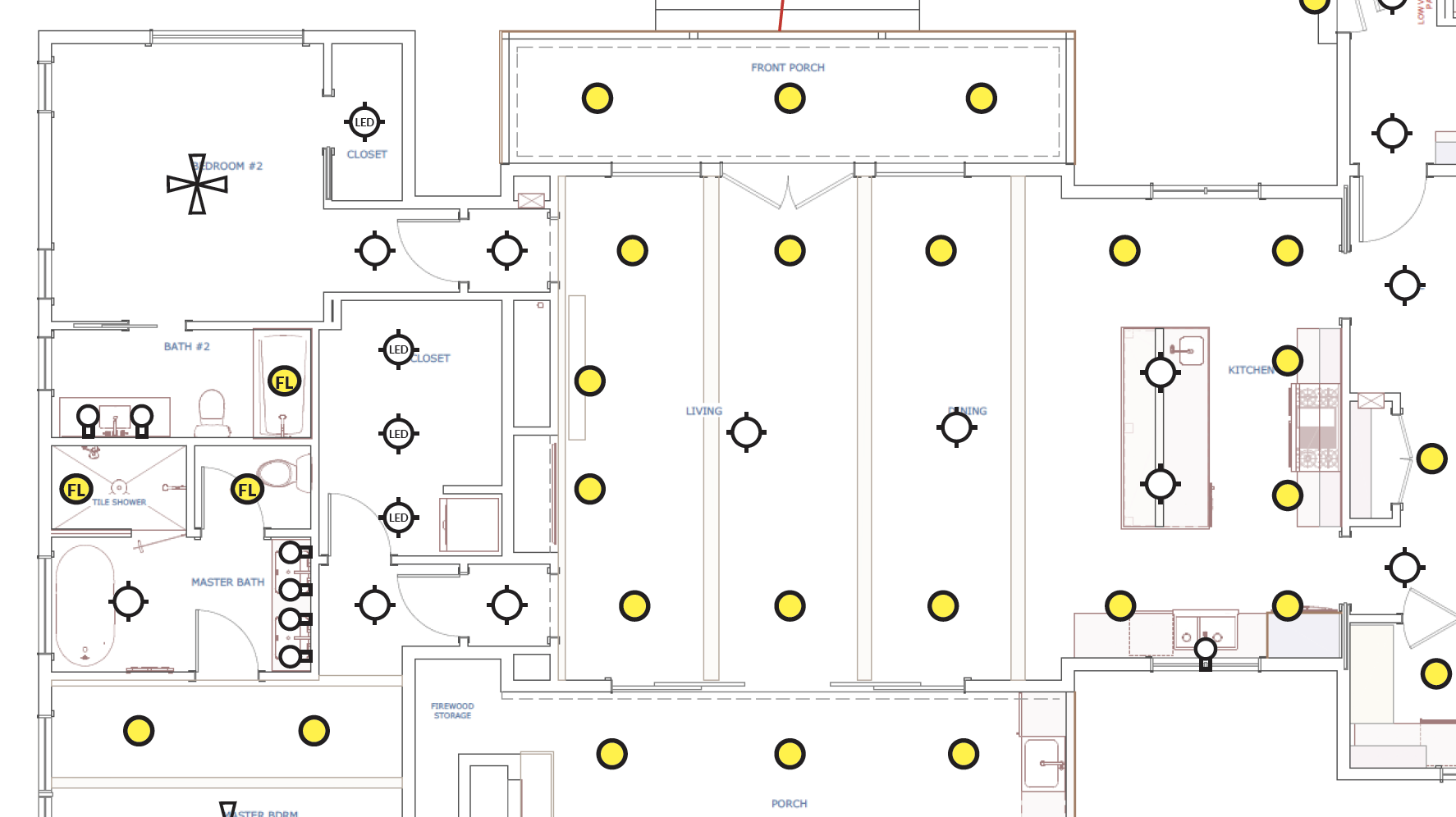 Every builder will put together a basic plan for you that marks lighting locations, but for a custom build that's just the beginning! Below are just a few of the ways you can customize a lighting and electrical layout to suit your specific wants and needs.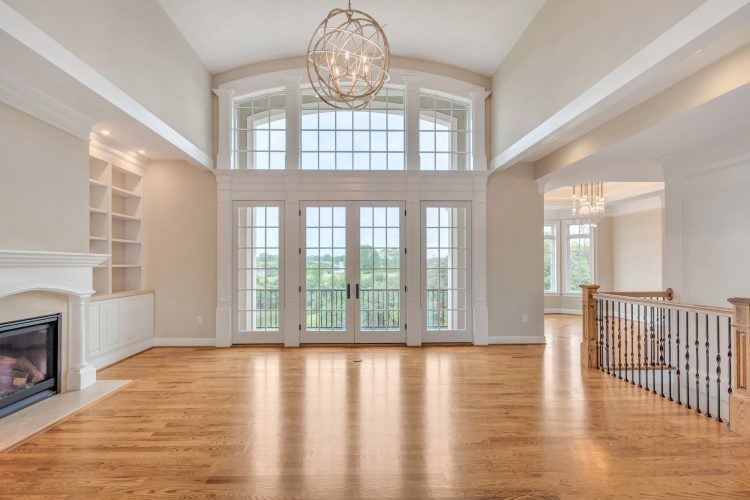 Floor Outlets are exactly what they sound like, outlets installed into the floor of a room. These allow you to "float" furniture, lamps, and stereos without power cords (or worse, extension cords) running across walkways to be plugged into the wall. In our opinion, these are a must in popular "open concept" living spaces. Room lighting works best when it comes from multiple locations. Ceiling lighting, sconce lighting, and lamps should all be utilized to create cozy, well-lit spaces; and floor outlets give you the power!
Switched Outlets are a useful feature in bedrooms or living spaces. You may have found one of these by accident in a hotel or when staying in a new apartment or unfamiliar guest room. A switched outlet has the top or bottom receptacle tied to a wall switch. The intended purpose is so you can plug in a lamp and control it with the wall switch. They are especially great in bedrooms where you may want to be able to control the bedside lamps from the doorway rather than turning on a harsher overhead fixture. Just be careful not to plug your phone or alarm clock into a switched outlet, potentially resulting in a missed alarm or dead phone in the morning! 
Dimmers can make a notable difference in the comfort and aesthetics of your home after dark, allowing you to lower the intensity of lighting to create a cozy atmosphere. A light that is dim enough for the evening may not be useful during the day, and lights that are bright enough for daytime may feel harsh and glaring once the sun goes down. Dimmers are a simple way to give dynamic control to your fixtures.
Vacuum or Small Appliance Outlets are specially placed outlets in closets or pantries for vacuum charging stations, irons, steamers, or small appliances. We can place the outlets at convenient heights, eliminating the dreaded cord-running and wrangling.
Additional Bathroom Outlets. Sure, you'll have an outlet or two near the sink, but would you like an outlet inside your vanity? What about near the toilet for a bidet seat or smart toilet? We can add additional outlets wherever they are needed, even in the bathroom.
Sconce Lighting is ubiquitous in decor magazines, blogs, and Pinterest, but they are rarely included in a basic lighting plan. "Sconce" is just a fancy name for a light that is mounted to the wall rather than to the ceiling. Sconces can be used for a variety of purposes – general soft lighting like a "wall wash", where the sconce simply throws light up and/or down the wall; task lighting, like a swing arm for reading, sconces flanking a bathroom mirror, or a downlight over a sink; or to light a feature, like a piece of art or special architectural detail. Think about how you will furnish and use the spaces in your home, and whether you might like to add any of these special lighting locations.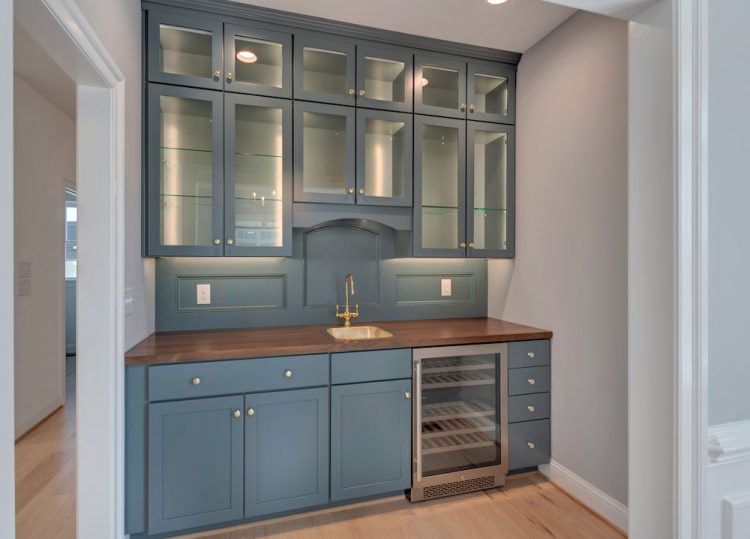 Undercabinet and In-Cabinet Lighting is nothing new, but it makes a huge difference in a kitchen, butler's pantry, or bar. Lighting inside glass cabinetry can create a soft glow, perfectly accenting your glassware or grandma's tea service, and undercabinet lighting prevents shadows on your workspace. We can plan for this early in the process, crafting a plan that will perfectly light up your countertops and collections.
Holiday Decor Planning. When designing homes, we frequently hear clients say things like, "this is going to be the Christmas tree window". We can make decorating for holidays a breeze by putting outlets exactly where you will need them. An electric candle in every window? We can put outlets there. A window where we know the Christmas tree is going to sit? Place an outlet in that exact location – maybe even a floor outlet if the tree is going to float in the room! The same can be done with the exterior. A popular set up is to add an exterior outlet in a convenient location on the porch to run a string of lights from. We also frequently add switched exterior outlets under front windows so decor can be plugged in and operated at the flick of a switch from inside. Clark Griswold would be incredibly jealous.
Smart Home Features and gadgets benefit from some forethought when putting together an electrical layout. Smart doorbell cameras, security sensors, and networks can all be planned for or installed right from the start with no retro-fitting or drywall repair necessary.
Home Theater and A/V Features. If you want a room that's ready for your home theater, you have several options. From simply adding the appropriate outlet and connections for a future projector to installing a fully integrated theater screen and sound system, thinking about these items while planning and building a custom home saves time and money in the future and ensures that your media room is ready to enjoy at move-in.
Exterior and Landscape Lighting can do wonders for curb appeal and function. Whether you want us to design and install an exterior landscape lighting plan, or just provide the electrical hookups necessary to add them yourself later, it's an important detail to consider when designing your custom home. Planning ahead for future needs can significantly lower the cost of that future investment, and can save your landscaping from invasive trenching down the line.
These are many of the electrical details that can be added to your custom home, but it's certainly not a comprehensive list! Let us know what you want to achieve and we will help you Craft Your Vision with all of the features that will make your home perfect for your unique lifestyle.